eNGO Challenge Award Grand Jury 2020-21
The Grand Jury for the 7th edition of eNGO Challenge Award 2020-21 was successfully held on April 1, 2021 in a virtual mode. This year, we have received a total of 225 nominations across 9 categories. Out of which, 29 entries were selected after the first round of screening for the final evaluation by our Jury members. A panel of 9 Jurors deliberated, voted, and shortlisted the filtered nominations for Winners and Special Mentions.
The list of Winners and Special Mentions will be revealed on May 28, 2021 in an online eNGO Award ceremony.
Meet the Jurors
Dr. Shyam Singh,
Associate Professor
Institute of Rural Management Anand (IRMA), Gujarat
Dr Shyam Singh is an Associate Professor in Social Sciences at IRMA. Dr Singh holds a PhD in Political Science from the Institute for Social and Economic Change (ISEC), Bangalore. He was the Scholar-in-Residence at the University of Antwerp, Belgium, in 2018. He was a member of the Second Common Review Mission, appointed by the Ministry of Rural Development, Government of India. He currently serves as a member of the Expert Committee to select National CSR Awards by the Ministry of Corporate Affairs, Government of India. His research interests include community development and governance, monitoring and evaluation, CSR, and social networks. He teaches Rural Society and Polity, Monitoring and Evaluation, and Social Network Analysis at IRMA. He has been working with UNICEF, the World Bank, the Government of India, and Gujarat on various research and consulting assignments.
---
Sonal Singh
Lead- Corporate Communication, Jindal Stainless

Sonal leads the communication function for India's largest stainless steel manufacturing company, Jindal Stainless. In the last 15 years, she's worked for employee, leader, corporate, social, media, and brand communication across different companies. As a passionate linguist and fitness enthusiast, Sonal is known to lead the happiest and the best performing teams.
---
Geeta Malhotra
Country Director, Rural Education and Development (READ) India

Dr Geeta Malhotra has been working with READ India since June 2008 and has helped bring 49 READ Centres (Community Library and Resource Centres) to life in 12 States across India. Geeta constantly performs networking for partnerships and fund-raising, apart from outreach activities to bring the best training and capacity-building programs to READ Community Library and Resource Centres while overseeing all operations in India. Geeta uses her strong experience, professional and academic connections to create new opportunities for READ India.
---
Santosh Abraham
Vice President, NASSCOM Foundation

17 + years of hands-on & progressive experience in working with individuals, stakeholders and diverse groups in the Development Sector. My roles range from Consulting, Capacity Building, Stakeholder Engagement, Employee management , Partnership Management, Project Management in International and National NGOs and the social arm of the IT-BPM Industry trade body.
He also has extensive experience of working in the areas of at-risk communities, Inclusion, Livelihoods & Employability ( Digital Literacy/Computer/IT Skills & Skill Development Program), Mental & Reproductive Health.
---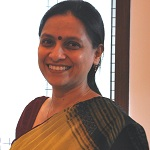 Shalini Kala
Consultant
Shalini is an agriculture and rural development specialist and has worked on related issues across Asia Pacific.
---
Shiv Tripathi
Professor and Dean, IIHMR University

Shiv currently serves as Professor and Dean (Training) at IIHMR University, Jaipur. He also leads Humanistic Management Network India as Chapter Lead. Shiv has more than 23 years of experience in teaching, research, and higher education management. As a trainer and facilitator, he has worked with a number of companies and institutions in Kenya, South Africa, Switzerland, Tanzania, Qatar and UK. He has published more than 75 articles, book-chapters and case-studies including six books. He is a member of United Nations Principles for Responsible Management Education (PRME) 'Anti-Corruption' and 'Poverty Eradication' Working Groups. He is Fellow of One Planet Education Network (OPEN).
---
Sheenu Jain
Chair, Marketing and Communications, IIHMR University
Dr. Sheenu Jain is Associate Professor, Marketing, Chair, Centre for Innovation, Incubation, and Entrepreneurship (CIIE), and Chair Marketing & Communications at IIHMR University. She has over 15 years of experience in academia, consulting, start-up training, digital marketing, and student mentorship. She has earned her Ph.D. in green marketing. She holds a multi-disciplinary master's degree in MBA (marketing), M.Com, and MSc applied psychology. She headed the Centre for Entrepreneurship and Innovation as a young management scholar at IIM Calcutta for about three years. She has been selected by Goldman Sachs and London Business School among 10,000 women entrepreneur programs.
She has closely worked with the Ministry of North East, CII & Indian Chamber of Commerce on various joint programs.
---
Shivan Dabas Sihag
Product Analyst/Manager, The Luxury Closet

Shivani has more than 5 years of cross functional experience across Product management & analytics, digital transformation into various sectors such as leading NGO, Telecom, and e-commerce etc. She is currently working as a Product Manager and Analyst in a Dubai based leading luxury e-commerce company. When she was working with SEEDS, a leading NGO, her project on school Safety Barometer-an analytics project won DEF 6th edition e-NGO Award. She has helped SEEDS in delivering technology driven projects that have improved the lives of people in different parts of India.
---
Syed Sultan. Kazi,
PhD

Dr Kazi is a development professional and working in the space of ICT for Development and Social Innovation for over 17 years now. He has worked in various capacities and areas including programme design, development, implementation, assessment, partnership development, fund raising, research, and advocacy. He is currently heading the Council for Social and Digital Development (CSDD), a research, policy organisation for social and digital innovations for sustainable development in North East India. He is also Advisor and Consultant at Digital Empowerment Foundation (DEF), a pan India ICT for development agency. He is serving the Improving Public Library Movement (IPLM) Trust as the Secretary. He is founder of North East Development Foundation (a pan North East India Sustainable Development Agency). Mr. Kazi has few research and published works. He is an MPhil and PhD from the Centre for the Study of Law & Governance, Jawaharlal Nehru University. His hobby is creative and development writing.